Rugs From Around the World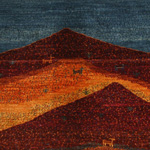 We love oriental rugs, gabbeh rugs, and, more importantly, the countries they came from.  After a lifetime of travel in the U.S. Foreign Service, including several years in the Central Asian countries of Kyrgyzstan, Uzbekistan, Tajikistan, Turkmenistan and Kazakhstan, we have found ourselves selling rugs in Langley, on Whidbey Island.  We are conveniently located near Seattle, Redmond and Bellevue.
Please come to our shop to experience the cultural artifacts and stories we have picked up on our travels.   From time to time we have trunk shows, musical performances, and talks (such as a Tibetan Buddhist Lama).  Recently we have expanded to include a bead shop, with a collection of unusual beads found around the world.
Learn more about the various rug countries represented by our products. Please email us to join our eNewsletter list. And follow us on our blog for stories about our latest trips, interesting products and design ideas.